Business Financial Services in Winter Haven, Florida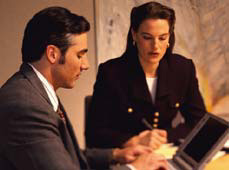 Keep your finances in check with our tax preparation and business financial services in Winter Haven, Florida. When your books are too big to balance, you need professional help from a company that specializes in accounting services. Before you write a big check to the government, visit us to see how we might reduce your payment significantly.
Federal and State
Business & Personal Tax Return Preparation
It's very hard to stay current on new tax laws when they change so often. The good news is: you don't have to worry about it. Our accountants have years of experience in preparing individual, corporate, partnership, trust, estate, nonprofit and payroll tax returns. We ensure that you receive every advantage you deserve. We also can assist you by tax planning that incorporates the latest tax law changes.
Retirement and Succession Business Planning
We enjoy helping our clients prepare and plan for retirement.  We also can provide insight on various means to insure that the business that you have spent so much time and effort building gets transferred to either your next generation or some other third party purchaser for the greatest amount using the most tax effective method.
Small Business Financial Reporting
Since we are a small business, we also understand your small business financial issues. As business consultants, we offer business planning, cash flow analysis, and loan application preparation services that keep your business profitable.
IRS Representation
There's no need to stand before the IRS without a professional advocate. During our years of experience dealing with many taxing authorities, we have achieved a level of competence that ensures that you are properly represented before the various federal and state tax agencies.
Small Business Financial Planning
Plan for the future and you'll be prepared for anything. Whether you're saving for major business expenditures or your child's college education, we assist you in choosing the investment vehicles that are right for you.
Compilation, Review, and Audit Services
Surrency, Clark & Colyer, CPAs, PL has a breadth of experience with a wide variety of industries and is familiar with the new reporting standards when it comes to the attestation services offered by Certified Public Accountants.
Contact our CPA firm to schedule an appointment with our financial representatives.